Southern California Armed Robbery Defense Attorney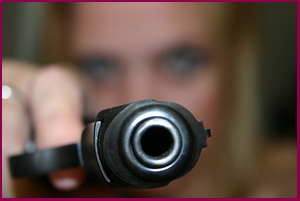 Armed robbery is one of the most serious criminal charges a person can be charged with in Southern California. While ALL robberies are charged as a felony offense, armed robbery can often result in significant jail or state prison time. If you are convicted of committing a robbery with a gun, you also face the possibility of an additional prison sentence from 10 to 25 years. That is very serious indeed!
In Southern California, a robbery occurs when a person takes the personal property of another person by the use of fear or actual force. To be charged with a robbery, the alleged defendant must take the property directly from the alleged victim.
Armed robbery cases generally fall into three categories:
Stranger stick-up cases.
Store or bank robberies where someone displays or mentions a weapon. In California, you do not have to actually have a weapon to be charged with armed robbery. All you have to do is mention that you have a weapon, whether you actually have one or not.
Robbery in a home, which actually transforms the crime in into "armed home invasion robbery."
Robbery charges may be filed as first-degree robbery or filed as second-degree robbery. The maximum prison sentence for first-degree robbery is 6 to 9 years. The maximum prison sentence for second-degree robbery is 5-years. In California, robbery is a serious felony and is considered a "strike offense," which means that you will face significantly increased penalties if you are ever convicted of another subsequent felony at some future time.
Armed Robbery Charges in Southern California
Considering these serious potential prison penalties associated with an armed robbery conviction, choosing the right criminal defense attorney is critical. Vincent W. Davis has the experience and skills to examine the strengths and weaknesses of an armed robbery criminal case, and use his skills to get your case dismissed or reduced to lesser charges so as to downgrade the potential consequences of the criminal charges facing you. If necessary, he will prepare and bring a strong defense to trial.
Enhanced Penalties for a Southern California Armed Robbery
In addition to any prison time you may be required to serve for a first or second-degree robbery conviction, you may be sentenced to a prison term of 10 to 25 years for the separate offense of using a weapon in the commission of a crime. In California, the use of a firearm in the commission of a crime may result in the following penalties:
A 10-year prison sentence for use of a firearm in the commission of a crime.
A 20-year prison sentence if you discharged the firearm.
A 25-years-to-life prison sentence if you killed another person or caused serious bodily harm.
Possible Armed Robbery Defenses
It is not uncommon that a person is unjustly convicted of armed robbery based on faulty eye-witness identification in a police line-up. There are many defenses that a skilled and experienced Southern California criminal defense lawyer can use to help you fight your armed robbery charges. Vincent W. Davis has 26-years experience specializing in defending felony criminal charges. We have many resources including the thorough investigation of every aspect of a criminal case to determine the best possible strategies to use in your unique defense. We will personally work along side you to get your armed robbery charges dismissed or reduced through a negotiated plea arrangement or take your case to a jury trial, if necessary.
---
When you talk to us you can be sure of one thing, that we are listening. The police and your accusers have their story, and it is our job to make sure that your story is heard. We want to know what happened and we want everyone else to know too.
Call me personally – 888-888-6582 – I am waiting to hear your story now, to defend you and make sure that your voice is heard.
We Are Your Criminal Defense Lawyers and we are proud to serve Los Angeles, Orange, Riverside and San Bernardino Counties.
---
Where We Can Meet You? - Contact An Attorney Now

Arcadia Office
150 N. Santa Anita Ave,
Suite 200
Arcadia, CA 91006
Phone: (626) 446-6442
Fax: (626)-446-6454
Beverly Hills Office
9465 Wilshire Blvd.
Suite 300
Beverly Hills, CA 90212
Phone: (310)-880-5733
La Mirada Office
Cerritos Towne Center
17777 Center Court Drive ,
Suite 600
Cerritos, California, 90703
Phone: 888-888-6542

Los Angeles Office
Gas Company Tower
555 West Fifth Street,
31st Floor
Los Angeles, California, 90013
Phone: (213)-400-4132
Long Beach Office
Landmark Square
111 West Ocean Blvd.,
Suite 400
Long beach, California, 90802

Irvine Office
Oracle Tower
17901 Von Karman Avenue,
Suite 600
Irvine, California, 92614
Phone: (949)-203-3971
Fax: (949)-203-3972
Ontario Office
Lakeshore Center
3281 E. Guasti Road,
7th Floor
City of Ontario, California, 91761
Phone:(909)-996-5644
Riverside Office
Turner Riverwalk
11801 Pierce Street,
Suite 200
Riverside, California, 92505
Phone: (909)-996-5644
San Diego
Emerald Plaza
402 West Broadway,
Suite #400
San Diego, California, 92101
Phone: (619)-885-2070
Aliso Viejo
Ladera Corporate Terrace
999 Corporate Drive,
Suite 100
Ladera Ranch, California, 92694
Phone: (714) 721-3822